CABIN IN THE WOODS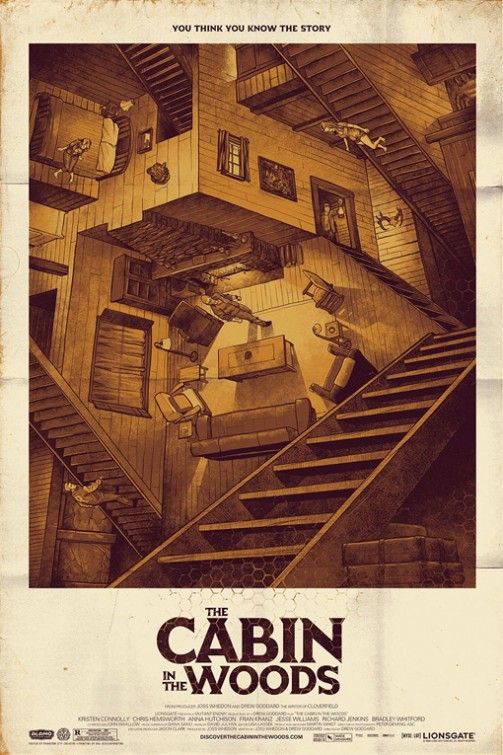 I loved CABIN IN THE WOODS!
A great horror/comedy is hard to come by these days. The only ones I can think of that really stand out as new classics are Shaun of the Dead and Drag Me To Hell. Thankfully we can add one more to the list.
Drew Goddard and Joss Whedon get it! They understand what made something like The Evil Dead so perfect. It was laugh-out-loud funny and genuinely scary. CABIN IN THE WOODS nails both of those prerequisites out of the park, creating something that is equally as, if not more, genius.
The initial premise is extremely similar to The Evil Dead. A group of likeable, good-looking young actors go away to a creepy cabin (in the woods) for a weekend and hellish, bloody events ensue. But this movie goes deeper, showing off the inner workings creepy old cabins and their undead inhabitants. It was The Evil Dead meets Monsters, Inc. and I f'n loved it!
I think that horror is probably the easiest film genre to do wrong. Everything has been done to death (you're welcome) so finding a way to bring true originality to the table is an incredible task. But Goddard and Whedon are incredible talents, so rather than fall prey to the standard horror tropes, they gladly embrace them, turning each one on its head to craft a movie that should stand as a pure classic.
One of the most important elements to any horror film, especially ones like this, is the casting. We have to really like these characters if we're expected to give a shit about whether they live or die. Again, Drew and Joss hit it out of the park. The biggest name in the movie is Chris Hemsworth, playing the typical alpha male. He reminds me a lot of Brad Pitt. He looks like you want to hate him, but he's so damn good you can't help but get on his side. The rest of the actors and actresses playing his friends are just as good, especially Fran Kranz, who gets the old standby "loser friend who actually knows the most" part. But the real stars are Richard Jenkins and Bradley Whitford. I don't want to say who they play. Just know that they're awesome and be happy with that.
I'm sure there are probably lots of easter eggs I missed during the first go round. I'm not worried about it though. Something tells me this one is going to be in regular rotation at my house once it hits video.
5 out of 5 Undertaker's 2-21-11 Cabins